The Australian actress found herself living up to her country's criminal convict past after getting sprung red-handed pickpocketing.
Margot Robbie revealed on Thursday on Good Morning America, that her efforts to go into character for her new movie led her being caught stealing.
The 24-year-old fessed up to not being as good of a thief as she hoped to become.
Source: dailymail.co.uk/
Who gets away with slapping Leonardo DiCaprio?
Turns out, Margot Robbie did after a passionate and way ad-libbed audition for her part as his wife, Naomi, in 2013's The Wolf of Wall Street, Harper's Bazaar UK reports in its April cover story.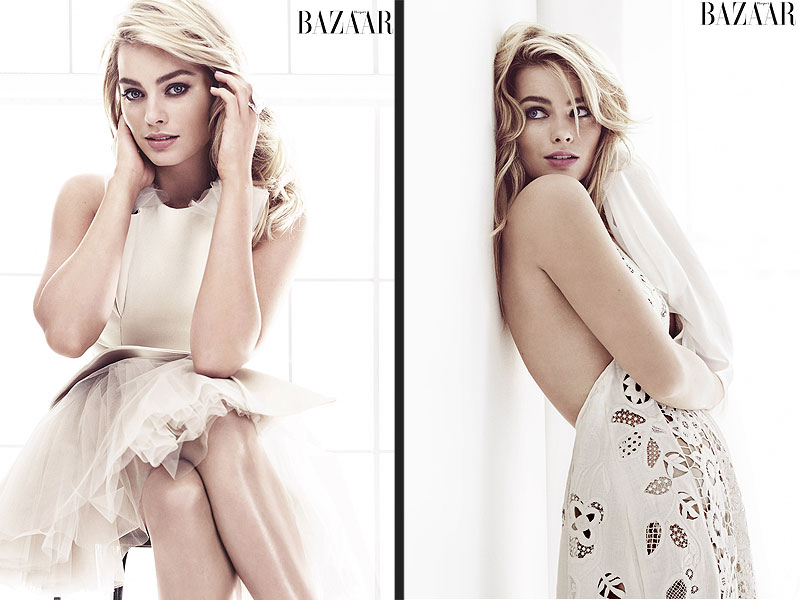 "In my head I was like, 'You have literally 30 seconds left in this room and if you don't do something impressive nothing will ever come of it. It's a once-in-a-lifetime chance, just take it,' " Robbie shared of her split-second decision to go for it, which landed her the part.
The April issue of Harper's Bazaar UK is out March 5.
Source: people.com/
Will Smith and his co-star Margot Robbie attend the premiere of their new film Focus at the TCL Chinese Theatre in Hollywood. The stars greeted fans and stopped for photographs
Will try and get photos from the event when I get time.
Source: dailymail.co.uk/
Australia's Margot Robbie has potentially solidified herself a good ten years of upfront work in blockbusters.
The beautiful "Wolf of Wall Street" star was interviewed on the Red Carpet at the Oscars by AZCentral, who asked her about her next gig, that of Harley Quinn in Warner's stout superhero pic "Suicide Squad". Not surprisingly, Robbie hinted that she's had to agree to play the Joker's girlfriend in more than one movie.
"You don't need to have commitment issues to be frightened by the fact that you might have just signed 10 years of your life away. … But with her, it's a character I don't think would ever get boring. Ever. So if they did Suicide Squad One, Two and Three, I would be over the moon about it."
MTV also caught up with Robbie at the Oscars, and asked her about whether or not she's been spending time with Jared Leto (the future 'Joker') to get their onscreen chemistry down pat.
Source: moviehole.net/
She's one of Hollywood's hottest young starlets.
But that doesn't mean Australian actress Margot Robbie is exempt from having to find herself a date.
The confident 24-year-old revealed to Extra host Mario Lopez on the Oscars red carpet on Sunday evening that she doesn't wait for the guys to come to her.
Source: dailymail.co.uk/
Hollywood A-lister Margot Robbie debuted a striking new crop on the Oscars red carpet on Sunday night, swapping her trademark long tresses for a modern angular bob.
The Wolf Of Wall Street starlet turned heads as she showcased the blunt cut, revealing its angular nature to the flashing cameras as she brandished her trademark mega watt smile at the 87th Academy Awards, held at the landmark Dobly Theatre.
Opting for sleek simplicity, the 24-year-old Australian's trademark tumbling locks were reworked into a sharp diagonal cut which featured a graduated front.
Draping her famed physique in a plunging black gown by Yves Saint Laurent, the Australian beauty was all brooding femme fatale, her lips painted a deep blood red.
Speaking on the red carpet the former Neighbours star told Ryan Seacrest, 40: 'This necklace is worth more than my life'.
Featuring exquisite diamonds and sapphires and a tasseled detailing set in 18K yellow, she revealed: 'It was created for the Duchess of Windsor or something in the '30s, I am very lucky to be wearing this.'
Robbie presented the Academy Award for Technical Achievement and the Gordon E. Sawyer Award at this year's Oscars.
Source: dailymail.co.uk/
Margot Robbie used to panic when she saw Dakota Fanning in big movies.
The 24-year-old actress is one of the hottest names in the industry right now thanks to her role opposite Leonardo DiCaprio in 2013's The Wolf of Wall Street and a recent nomination for the EE BAFTA Rising Star award.
Australian-born Margot started out with a role in soap Neighbours and remembers feeling an intense urge to make it in America. And seeing 20-year-old Dakota make waves really pushed her along.
"I would freak out, because I was only 17 and Dakota Fanning was younger than me and doing all these films. I would say to myself, 'I need to get a move on,'" she admitted to ShortList magazine.
"I'm just a very impatient person. I remember when I signed with my agent, I told him we needed to get the ball rolling with the US. He said, 'You don't need to be in such a hurry,' and I said, 'Yes I do.' The person I compared myself to was so much younger than me, and I needed to get a move on. My agent said, 'Enough with Dakota Fanning!' I think I drove him crazy. I used every minute I got."
Neighbours didn't exactly ease Margot into her career, with the star describing it as a "bootcamp" for actors. When she walked off set, she promised herself she'd never work on anything as tough again, although she admits it taught her good discipline.
Her latest film is Focus, which co-stars Will Smith. Many know him as The Fresh Prince of Bel-Air, but Margot was blissfully unaware.
"Will is everything you can imagine, and more – but I'd actually never heard of The Fresh Prince Of Bel-Air," she confessed.
"He was… not offended, but maybe a little surprised I didn't know who Jazzy Jeff was. I didn't understand a lot of the references, which of course the crew were all over. I said his name wrong, I called him Jazzy Jam or something. Will said, 'Are you serious" I had no idea what he was talking about. I think he thought I was a lost cause."
Source: film-news.co.uk/
I know I'm a little behind on my photos. Here I have added some photos from appearances at the end of 2014.
Greg Russell sits down with Margot Robbie to talk about her new film "Focus" with Will Smith.

Source: clickondetroit.com/

Australian actor Margot Robbie has made quite an impression during an appearance on the British version of Top Gear, nearly crashing into a cameraman while completing the show's celebrity time trial.

The Wolf of Wall Street star was behind the wheel of a Vauxhall Astra for the show's Star in a Reasonably Priced Car segment when she spun out on a turn and came close to hitting the camera operator.

No one was injured, and 24-year-old Robbie was allowed to start the course again.

However, it wasn't all bad news for Robbie, who was appearing on the show alongside Men in Black star Will Smith to promote their new film, Focus.

Despite the shaky start, Robbie still managed to beat Smith by one tenth of a second, completing the course in an impressive one minute and 47.1 seconds, and earning seventh place on the show's leaderboard. She was also gifted a broken runway light which she destroyed with her driving.

The 'Star in a Reasonably Priced Car' is a weekly segment on Top Gear.

A new leaderboard is started when a new "reasonably priced car" is introduced. The show's celebrity guests have been racing in the Astra since 2013, and 21 celebrities have taken the challenge in the manual car (with the exception of singer Ed Sheeran and comedian Jack Whitehall, who both asked to complete their lap in an automatic).

Robbie isn't the only Australian sitting towards the top of the leaderboard. Fellow actor Hugh Jackman is currently placed fourth, with a time of one minute and 46.7 seconds.

Source: smh.com.au/