I know I'm a little behind on my photos. Here I have added some photos from appearances at the end of 2014.
Greg Russell sits down with Margot Robbie to talk about her new film "Focus" with Will Smith.
Source: clickondetroit.com/
Australian actor Margot Robbie has made quite an impression during an appearance on the British version of Top Gear, nearly crashing into a cameraman while completing the show's celebrity time trial.
The Wolf of Wall Street star was behind the wheel of a Vauxhall Astra for the show's Star in a Reasonably Priced Car segment when she spun out on a turn and came close to hitting the camera operator.
No one was injured, and 24-year-old Robbie was allowed to start the course again.
However, it wasn't all bad news for Robbie, who was appearing on the show alongside Men in Black star Will Smith to promote their new film, Focus.
Despite the shaky start, Robbie still managed to beat Smith by one tenth of a second, completing the course in an impressive one minute and 47.1 seconds, and earning seventh place on the show's leaderboard. She was also gifted a broken runway light which she destroyed with her driving.
The 'Star in a Reasonably Priced Car' is a weekly segment on Top Gear.
A new leaderboard is started when a new "reasonably priced car" is introduced. The show's celebrity guests have been racing in the Astra since 2013, and 21 celebrities have taken the challenge in the manual car (with the exception of singer Ed Sheeran and comedian Jack Whitehall, who both asked to complete their lap in an automatic).
Robbie isn't the only Australian sitting towards the top of the leaderboard. Fellow actor Hugh Jackman is currently placed fourth, with a time of one minute and 46.7 seconds.
Source: smh.com.au/
With her old Hollywood-style looks and endless talent Margot Robbie's meteoric rise to the top has surprised no one.
And holding court during a press conference at Italy's 65th Sanremo Festival at the weekend, the 24-year-old looked every inch the cream of Tinseltown's crop as she held her own with Hollywood heavyweight and Focus co star, Will Smith.
Giving her undivided attention to the Hitch actor, Australian beauty Margot looked totally invested in what the articulate star was saying as the pair fielded questions like consummate professionals.
Source: dailymail.co.uk/
The actor who plays Harold Bishop on Neighbours has boasted that Margot Robbie once gave him mouth to mouth.
Ian Smith who this year celebrates thirty years with the iconic Australian soap says it's been great to see former graduates, like Kylie Minogue and Guy Pearce, rise through the show-business ranks.
He's also been keeping a close eye on the flourishing Hollywood career of former co-star Margot Robbie.
"You can boast that you know … Margot gave me mouth to mouth resuscitation," he said on Nova's breakfast radio show with Fitzy and Wippa.
The 76-year-old, who recently made headlines after appearing in a sex education video, said he couldn't reveal any Neighbours upcoming plots.
"I'd have to kill both of you," he said to the radio hosts.
"That's actually not a bad idea. OK, I'll tell you," he joked.
Source: dailymail.co.uk/
A new clip has arrived for up and coming heist drama Focus starring Will Smith and Margot Robbie.
Will Smith plays Nicky, a seasoned con artist, who meets the seductively gorgeous Jess (Margot Robbie) who is looking to get into the con game. She has all the right equipment but she is a novice and needs guidance. Nicky decides to teach her the tricks of the trade, but as they become romantically involved Nicky breaks it off abruptly. Three years down the line whilst Nicky is in the middle of a con, their paths cross again putting him off his game and their lives in danger.
Check out the clip below which shows Nicky teaching Jess a few tricks of the trade and that it is all a game of Focus.
Source: filmoria.co.uk/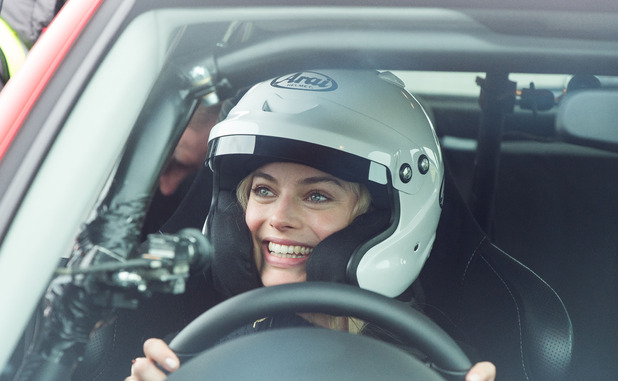 Will Smith and Margot Robbie are the latest 'Stars in a Reasonably Priced Car' on Top Gear.
The acting duo – who appear together in new romantic comedy-drama Focus – test their driving skills in the BBC series' latest episode, airing this weekend.
Robbie was quite a way behind fellow Australian and F1 driver Daniel Ricciardo, who recently beat Lewis Hamilton to take the top spot on the 'Star in a Reasonably Priced Car' leaderboard.
Top Gear trio Jeremy Clarkson, Richard Hammond and James May have already visited Australia's Northern Territory so far this series, while the presenters will host the Top Gear Festival in Sydney this April.
The Top Gear episode with Will Smith and Margot Robbie airs on BBC Two this Sunday (February 15) at 8pm in the UK.
It will also air in Australia next Monday (February 16) on the BBC's international lifestyle channel BBC Knowledge, simulcast at 7.00am with an encore screening at 7.30pm.
Source: digitalspy.com.au/
In case you were wondering where two of today's greatest comedic actors are, as well as one very lovely Harley Quinn, they're in New Mexico shooting a film adaptation of "The Taliban Shuffle: Strange Days in Afghanistan and Pakistan". The three in question are Tina Fey, Martin Freeman and Margot Robbie of course. The story will follow that of the journalist Kim Barker as she traverses the cultures of Pakistan and Afghanistan. The book is described as a "darkly comic and unsparing memoir, with Barker using her wry, incisive voice to find the humor and humanity amid the rubble and heartbreak." It's not much of a stretch to see Fey in that role, and she'll also be joined by the likes Alfred Molina, and Billy Bob Thornton.
Directors Glenn Ficarra and John Requa (FOCUS, I LOVE YOU PHILLIP MORRIS) are bringing this project to light, and while the book's synopsis doesn't do much for me, those two directors are pretty great and at bringing A-list talent to their pictures and building fun characters for them to inhabit. If you haven't already checked it out, the trailer for FOCUS gives us the most interesting Will Smith vehicle in some time. As far as I'm concerned, Tina Fey and Martin Freeman rank as some of the most charismatic, so I'll be curious to see how this one will looks when it hits.
This untitled TALIBAN SHUFFLE adaptation will probably see a release sometime next year.
Source: joblo.com/
Margot Robbie was on vacation in Croatia when she heard she had landed an audition with Will Smith for upcoming flick Focus the following day — which meant she had to hightail it out of there and make it to New York City Amazing Race-style, the actress admitted to reporters at a press conference on Monday, Feb. 9.
"It was 6 in the morning," the Wolf of Wall Street actress told Us Weekly and other reporters at an event in Los Angeles. "I'd been swimming, and I got the call saying, 'Oh, yeah. You need to be doing an audition with Will Smith like tomorrow in New York. So your flight's booked for tonight.'"
"And I was like, 'Tonight? Oh, my God.' I asked the lady at the hostel I was staying at, 'Oh, how do I get off this island? I need to go to the mainland.' And she was like, 'Oh, there's only one boat a day, and it leaves in 20 minutes.' And I was like, 'Oh, my God,'" she continued.
Robbie recalled she then grabbed all her belongings, "left half of it probably in the hostel," and got to the airport.
"I waited eight hours, and then I went to France, and then I went to New York. And by the time I got to New York, I'd now not slept for, like, well over two days," she said.
To make it all even more chaotic? The blonde said the airline also lost her luggage.
"My audition was about seven hours away," she explained. "So I walk into the audition in wet sneakers and denim shorts and a pajama shirt, which was the only dry thing I had before they lost my luggage. I just walked in. And I was like, 'I cannot meet Will Smith in my pajama shirt.' So I went to Topshop and grabbed [a] top and then walked in."
Smith, who was present for what she's dubbed the "horrendous" moment, chimed in and told reporters, "No, no" she didn't look awful.
Source: usmagazine.com/
Margot Robbie went from Australian soap opera actress to Martin Scorsese leading lady, taking overnight stardom in laid-back stride. With a spate of movies on deck, including this month's con-artist dramedy Focus, Hollywood's girl-most-wanted (and offscreen daredevil) is no drive-by talent. As writer Aaron Gell discovers, she's on the move, full speed ahead.