I seen the add myself during neighbours this evening, Margot will be one of the stars who started the beginning of a successful career on Neighbours along with the likes of Delta Goodrem, Guy Pearce and Kylie Minogue. Australian viewers will be lucky enough to see this airing on Channel 10, Monday 16th March. Here is the small preview:
She's one of Hollywood's hottest young starlets.
But that doesn't mean Australian actress Margot Robbie is exempt from having to find herself a date.
The confident 24-year-old revealed to Extra host Mario Lopez on the Oscars red carpet on Sunday evening that she doesn't wait for the guys to come to her.
Source: dailymail.co.uk/
Hollywood A-lister Margot Robbie debuted a striking new crop on the Oscars red carpet on Sunday night, swapping her trademark long tresses for a modern angular bob.
The Wolf Of Wall Street starlet turned heads as she showcased the blunt cut, revealing its angular nature to the flashing cameras as she brandished her trademark mega watt smile at the 87th Academy Awards, held at the landmark Dobly Theatre.
Opting for sleek simplicity, the 24-year-old Australian's trademark tumbling locks were reworked into a sharp diagonal cut which featured a graduated front.
Draping her famed physique in a plunging black gown by Yves Saint Laurent, the Australian beauty was all brooding femme fatale, her lips painted a deep blood red.
Speaking on the red carpet the former Neighbours star told Ryan Seacrest, 40: 'This necklace is worth more than my life'.
Featuring exquisite diamonds and sapphires and a tasseled detailing set in 18K yellow, she revealed: 'It was created for the Duchess of Windsor or something in the '30s, I am very lucky to be wearing this.'
Robbie presented the Academy Award for Technical Achievement and the Gordon E. Sawyer Award at this year's Oscars.
Source: dailymail.co.uk/
The actor who plays Harold Bishop on Neighbours has boasted that Margot Robbie once gave him mouth to mouth.
Ian Smith who this year celebrates thirty years with the iconic Australian soap says it's been great to see former graduates, like Kylie Minogue and Guy Pearce, rise through the show-business ranks.
He's also been keeping a close eye on the flourishing Hollywood career of former co-star Margot Robbie.
"You can boast that you know … Margot gave me mouth to mouth resuscitation," he said on Nova's breakfast radio show with Fitzy and Wippa.
The 76-year-old, who recently made headlines after appearing in a sex education video, said he couldn't reveal any Neighbours upcoming plots.
"I'd have to kill both of you," he said to the radio hosts.
"That's actually not a bad idea. OK, I'll tell you," he joked.
Source: dailymail.co.uk/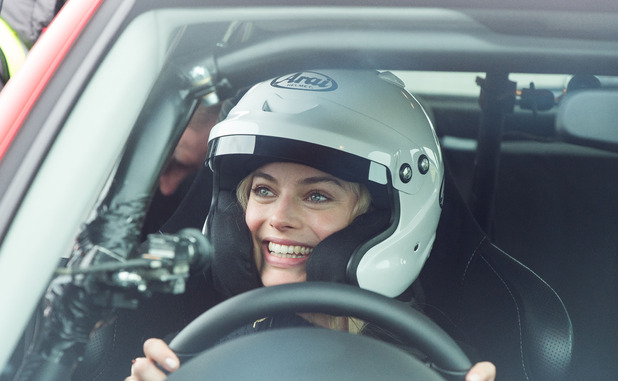 Will Smith and Margot Robbie are the latest 'Stars in a Reasonably Priced Car' on Top Gear.
The acting duo – who appear together in new romantic comedy-drama Focus – test their driving skills in the BBC series' latest episode, airing this weekend.
Robbie was quite a way behind fellow Australian and F1 driver Daniel Ricciardo, who recently beat Lewis Hamilton to take the top spot on the 'Star in a Reasonably Priced Car' leaderboard.
Top Gear trio Jeremy Clarkson, Richard Hammond and James May have already visited Australia's Northern Territory so far this series, while the presenters will host the Top Gear Festival in Sydney this April.
The Top Gear episode with Will Smith and Margot Robbie airs on BBC Two this Sunday (February 15) at 8pm in the UK.
It will also air in Australia next Monday (February 16) on the BBC's international lifestyle channel BBC Knowledge, simulcast at 7.00am with an encore screening at 7.30pm.
Source: digitalspy.com.au/
In case you were wondering where two of today's greatest comedic actors are, as well as one very lovely Harley Quinn, they're in New Mexico shooting a film adaptation of "The Taliban Shuffle: Strange Days in Afghanistan and Pakistan". The three in question are Tina Fey, Martin Freeman and Margot Robbie of course. The story will follow that of the journalist Kim Barker as she traverses the cultures of Pakistan and Afghanistan. The book is described as a "darkly comic and unsparing memoir, with Barker using her wry, incisive voice to find the humor and humanity amid the rubble and heartbreak." It's not much of a stretch to see Fey in that role, and she'll also be joined by the likes Alfred Molina, and Billy Bob Thornton.
Directors Glenn Ficarra and John Requa (FOCUS, I LOVE YOU PHILLIP MORRIS) are bringing this project to light, and while the book's synopsis doesn't do much for me, those two directors are pretty great and at bringing A-list talent to their pictures and building fun characters for them to inhabit. If you haven't already checked it out, the trailer for FOCUS gives us the most interesting Will Smith vehicle in some time. As far as I'm concerned, Tina Fey and Martin Freeman rank as some of the most charismatic, so I'll be curious to see how this one will looks when it hits.
This untitled TALIBAN SHUFFLE adaptation will probably see a release sometime next year.
Source: joblo.com/
Margot Robbie was on vacation in Croatia when she heard she had landed an audition with Will Smith for upcoming flick Focus the following day — which meant she had to hightail it out of there and make it to New York City Amazing Race-style, the actress admitted to reporters at a press conference on Monday, Feb. 9.
"It was 6 in the morning," the Wolf of Wall Street actress told Us Weekly and other reporters at an event in Los Angeles. "I'd been swimming, and I got the call saying, 'Oh, yeah. You need to be doing an audition with Will Smith like tomorrow in New York. So your flight's booked for tonight.'"
"And I was like, 'Tonight? Oh, my God.' I asked the lady at the hostel I was staying at, 'Oh, how do I get off this island? I need to go to the mainland.' And she was like, 'Oh, there's only one boat a day, and it leaves in 20 minutes.' And I was like, 'Oh, my God,'" she continued.
Robbie recalled she then grabbed all her belongings, "left half of it probably in the hostel," and got to the airport.
"I waited eight hours, and then I went to France, and then I went to New York. And by the time I got to New York, I'd now not slept for, like, well over two days," she said.
To make it all even more chaotic? The blonde said the airline also lost her luggage.
"My audition was about seven hours away," she explained. "So I walk into the audition in wet sneakers and denim shorts and a pajama shirt, which was the only dry thing I had before they lost my luggage. I just walked in. And I was like, 'I cannot meet Will Smith in my pajama shirt.' So I went to Topshop and grabbed [a] top and then walked in."
Smith, who was present for what she's dubbed the "horrendous" moment, chimed in and told reporters, "No, no" she didn't look awful.
Source: usmagazine.com/
Margot Robbie and Miles Teller will flex their upcoming comicbook franchise muscles — "Suicide Squad" and "The Fantastic Four," respectively — as hosts of the Academy's Scientific and Technical Awards Presentation, set for Feb. 7 at the Beverly Wilshire.

This year's Sci-Tech Awards, as they're commonly known, will feature 21 awards presented to 58 individual recipients, and portions of the event will be featured in the Feb. 22 Oscarcast.

"We're very excited to have Margot and Miles hosting this year's Sci-Tech Awards," said Academy president Cheryl Boone Isaacs in a statement. "Both are fresh voices in our industry and will be a welcome addition to the night where we honor our colleagues' technical achievements."

Added Oscar producers Craig Zadan and Neil Meron, "Margot and Miles represent some of the best of the next generation of rising stars, and it is only fitting that they host an evening saluting the film innovations and innovators who will inform the future."

Source: variety.com

Andrea Berloff will adapt Marisa Lankester's memoir about her role in an offshore gambling empire
dangeorus-oddsWarner Bros. is in exclusive negotiations to acquire "Dangerous Odds," a red-hot package featuring Margot Robbie as Marisa Lankester, a beautiful insider within the world of illegal sports betting, multiple individuals familiar with the project have told TheWrap at Sundance.
Warner Bros. and CAA did not immediately respond to late-night requests for comment.
Andrea Berloff ("World Trade Center") will adapt Lankester's memoir of the same name that chronicles her role in the creation of the first offshore gambling empire, which had ties to the mob.
Lankester helped move the business from Los Angeles to Las Vegas to the Dominican Republic, where gambling is legal. There, she became a victim of a dangerous world of corruption, as she was repeatedly raped by a general in the secret police and imprisoned in a "medieval hellhole." The story has a happy ending though, as she escaped and moved to Switzerland.
Film 360 and Robbie and Berloff's reps at CAA and Management 360 have been running the auction since Wednesday, and multiple buyers in Park City told TheWrap that the project was definitely heading to Warner Bros., which has a lot invested in Robbie's thriving career.

Source: thewrap.com

One of the movies that has a ton of heat already focused on it even before the Sundance Film Festival begins is "Z For Zachariah." Chris Pine, a brunette Margot Robbie, and Chiwetel Ejiofor co-star in this story that takes place "in the wake of a disaster that wipes out most of civilization," according to the official synopsis. "Two men and a young woman find themselves in an emotionally-charged love triangle as the last known survivors."

Craig Zobel's last film that played here, "Compliance," was a cold-blooded and intensely well-made look at a true story that still gives me chills when I think about it. I am a huge fan of his first feature film, "Great World Of Sound," as well, and I am excited to see anything Zobel makes.

Today, we've got an exclusive debut for you of the first clip from the film. In it, we see a tender moment between these three friends, presumably as they're starting to settle into this strange new world of theirs.

Check it out embedded at the top of this story. What gets me is that look from Ejiofor at the end of the clip, just as it fades to black. Things are not going to go well between those three. I'm also struck by how transformative something as simple as hair color is on Robbie. She's a lovely young woman, but looking at her here, I don't see even a hint of the Duchess, her character from "Wolf Of Wall Street." I have a feeling Robbie is someone we're going to be watching for many, many years to come.

And fingers crossed this is a great role for Chris Pine. I thought he was amazing in Joe Carnahan's "Stretch," but no one saw the film. Pine is too interesting to be locked down only doing big Hollywood action movies. There is a stealth freak hiding in there, and I want to see more and more filmmakers try to push him to new places onscreen.

Source: hitfix.com/