They're all pursuing international careers abroad, but it seems some of Neighbours' successful alumni haven't forgotten their Ramsay Street roots.
Margot Robbie was joined by Natalie Blair, Pippa Black, Jordy Lucas and Ashleigh Brewer recently for a mini Neighbours reunion of their own in Los Angeles.
Clearly comfortable with her former Australian co-stars, 24-year-old Margot swapped her glamorous Hollywood attire for a casual chic look in the reunion image posted to Natalie's Instagram account.
'Reunion @_ashbrewer @jordylucas3 @margotrobbie #TofuPony #Neighbours,' 30-year-old Natalie who played Carmella Cammeniti on the show captioned the image.
Source: dailymail.co.uk/
SOME of Margot Robbie's former colleagues on the hit soap series Neighbours have recalled the young rising star's first days on set almost seven years ago as a very green actress.
The Gold Coast-born performer is now one of Hollywood's new 'it' girls after starring in Wolf of Wall Street alongside Leonardo DiCaprio.
But when she stumbled onto the fictional Ramsay Street back in 2008, her future was anything but certain. Robbie was just 18 when she brought the character of Donna Freedman to life.
Read More: [Here]
She earned her acting stripes on Australia's celebrated soap opera Neighbours.
And when Margot Robbie starred alongside Leonardo Di Caprio on The Wolf of Wall Street, she couldn't resist giving the movie star a lesson in all things Ramsay Street.
As the 24-year-old returned to the set for the 30th anniversary reunion special recently, she told Sunday Telegraph that he was quite intrigued about the soap.
The blonde bombshell said: 'When I started on [The] Wolf [of Wall Street], Leo and Martin Scorsese had heard of Neighbours and were aware of what it was, but they hadn't seen any episodes.
'So he went onto YouTube and watched a few clips.'
Despite coming a long way since her days on the Aussie soap, Margot, who played Donna Freedman from 2008 to 2011 is still good friends with her onscreen husband Ringo Brown, played by Sam Clark.
Last month the Hollywood actress, was seen with the handsome chap at a private screening in L.A for her newest film, Focus in which she stars alongside Will Smith.
Margot and the 27-year-old were reportedly seen laughing at the event and are clearly still very close.
Both actors left Neighbours within months of each other with Ringo dying after being hit by a motorcycle in 2010 and Donna leaving for fashion school in New York City in 2011.
Source: dailymail.co.uk/
I seen the add myself during neighbours this evening, Margot will be one of the stars who started the beginning of a successful career on Neighbours along with the likes of Delta Goodrem, Guy Pearce and Kylie Minogue. Australian viewers will be lucky enough to see this airing on Channel 10, Monday 16th March. Here is the small preview:
She's one of Hollywood's hottest young starlets.
But that doesn't mean Australian actress Margot Robbie is exempt from having to find herself a date.
The confident 24-year-old revealed to Extra host Mario Lopez on the Oscars red carpet on Sunday evening that she doesn't wait for the guys to come to her.
Source: dailymail.co.uk/
Hollywood A-lister Margot Robbie debuted a striking new crop on the Oscars red carpet on Sunday night, swapping her trademark long tresses for a modern angular bob.
The Wolf Of Wall Street starlet turned heads as she showcased the blunt cut, revealing its angular nature to the flashing cameras as she brandished her trademark mega watt smile at the 87th Academy Awards, held at the landmark Dobly Theatre.
Opting for sleek simplicity, the 24-year-old Australian's trademark tumbling locks were reworked into a sharp diagonal cut which featured a graduated front.
Draping her famed physique in a plunging black gown by Yves Saint Laurent, the Australian beauty was all brooding femme fatale, her lips painted a deep blood red.
Speaking on the red carpet the former Neighbours star told Ryan Seacrest, 40: 'This necklace is worth more than my life'.
Featuring exquisite diamonds and sapphires and a tasseled detailing set in 18K yellow, she revealed: 'It was created for the Duchess of Windsor or something in the '30s, I am very lucky to be wearing this.'
Robbie presented the Academy Award for Technical Achievement and the Gordon E. Sawyer Award at this year's Oscars.
Source: dailymail.co.uk/
The actor who plays Harold Bishop on Neighbours has boasted that Margot Robbie once gave him mouth to mouth.
Ian Smith who this year celebrates thirty years with the iconic Australian soap says it's been great to see former graduates, like Kylie Minogue and Guy Pearce, rise through the show-business ranks.
He's also been keeping a close eye on the flourishing Hollywood career of former co-star Margot Robbie.
"You can boast that you know … Margot gave me mouth to mouth resuscitation," he said on Nova's breakfast radio show with Fitzy and Wippa.
The 76-year-old, who recently made headlines after appearing in a sex education video, said he couldn't reveal any Neighbours upcoming plots.
"I'd have to kill both of you," he said to the radio hosts.
"That's actually not a bad idea. OK, I'll tell you," he joked.
Source: dailymail.co.uk/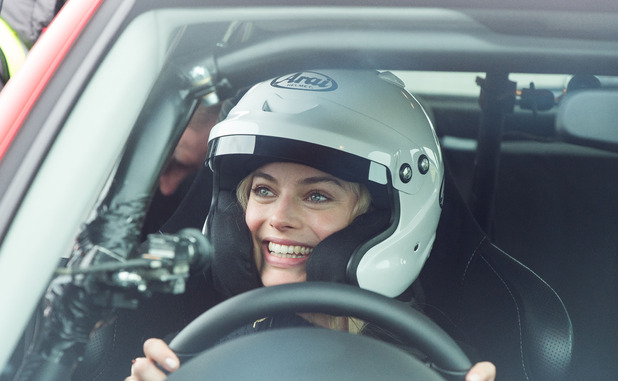 Will Smith and Margot Robbie are the latest 'Stars in a Reasonably Priced Car' on Top Gear.

The acting duo – who appear together in new romantic comedy-drama Focus – test their driving skills in the BBC series' latest episode, airing this weekend.

Robbie was quite a way behind fellow Australian and F1 driver Daniel Ricciardo, who recently beat Lewis Hamilton to take the top spot on the 'Star in a Reasonably Priced Car' leaderboard.

Top Gear trio Jeremy Clarkson, Richard Hammond and James May have already visited Australia's Northern Territory so far this series, while the presenters will host the Top Gear Festival in Sydney this April.

The Top Gear episode with Will Smith and Margot Robbie airs on BBC Two this Sunday (February 15) at 8pm in the UK.

It will also air in Australia next Monday (February 16) on the BBC's international lifestyle channel BBC Knowledge, simulcast at 7.00am with an encore screening at 7.30pm.

Source: digitalspy.com.au/

In case you were wondering where two of today's greatest comedic actors are, as well as one very lovely Harley Quinn, they're in New Mexico shooting a film adaptation of "The Taliban Shuffle: Strange Days in Afghanistan and Pakistan". The three in question are Tina Fey, Martin Freeman and Margot Robbie of course. The story will follow that of the journalist Kim Barker as she traverses the cultures of Pakistan and Afghanistan. The book is described as a "darkly comic and unsparing memoir, with Barker using her wry, incisive voice to find the humor and humanity amid the rubble and heartbreak." It's not much of a stretch to see Fey in that role, and she'll also be joined by the likes Alfred Molina, and Billy Bob Thornton.

Directors Glenn Ficarra and John Requa (FOCUS, I LOVE YOU PHILLIP MORRIS) are bringing this project to light, and while the book's synopsis doesn't do much for me, those two directors are pretty great and at bringing A-list talent to their pictures and building fun characters for them to inhabit. If you haven't already checked it out, the trailer for FOCUS gives us the most interesting Will Smith vehicle in some time. As far as I'm concerned, Tina Fey and Martin Freeman rank as some of the most charismatic, so I'll be curious to see how this one will looks when it hits.

This untitled TALIBAN SHUFFLE adaptation will probably see a release sometime next year.

Source: joblo.com/

Margot Robbie was on vacation in Croatia when she heard she had landed an audition with Will Smith for upcoming flick Focus the following day — which meant she had to hightail it out of there and make it to New York City Amazing Race-style, the actress admitted to reporters at a press conference on Monday, Feb. 9.
"It was 6 in the morning," the Wolf of Wall Street actress told Us Weekly and other reporters at an event in Los Angeles. "I'd been swimming, and I got the call saying, 'Oh, yeah. You need to be doing an audition with Will Smith like tomorrow in New York. So your flight's booked for tonight.'"
"And I was like, 'Tonight? Oh, my God.' I asked the lady at the hostel I was staying at, 'Oh, how do I get off this island? I need to go to the mainland.' And she was like, 'Oh, there's only one boat a day, and it leaves in 20 minutes.' And I was like, 'Oh, my God,'" she continued.
Robbie recalled she then grabbed all her belongings, "left half of it probably in the hostel," and got to the airport.
"I waited eight hours, and then I went to France, and then I went to New York. And by the time I got to New York, I'd now not slept for, like, well over two days," she said.
To make it all even more chaotic? The blonde said the airline also lost her luggage.
"My audition was about seven hours away," she explained. "So I walk into the audition in wet sneakers and denim shorts and a pajama shirt, which was the only dry thing I had before they lost my luggage. I just walked in. And I was like, 'I cannot meet Will Smith in my pajama shirt.' So I went to Topshop and grabbed [a] top and then walked in."
Smith, who was present for what she's dubbed the "horrendous" moment, chimed in and told reporters, "No, no" she didn't look awful.

Source: usmagazine.com/