Margot recently made top 10 in FHM's Sexiest Woman in the World! Ranking at #7, can she get top spot next year?
FHM's Top Ten Sexiest Women in the World
1. Michelle Keegan
2. Kendall Jenner
3. Jennifer Lawrence
4. Kate Upton
5. Caroline Flack
6. Ariana Grande
7. Margot Robbie
8. Lucy Mecklenburgh
9. Emilia Clarke
10. Kelly Brook
Just adding some magazine scans back from 2014. I do have some new ones that I will try and get up asap.
Who gets away with slapping Leonardo DiCaprio?
Turns out, Margot Robbie did after a passionate and way ad-libbed audition for her part as his wife, Naomi, in 2013's The Wolf of Wall Street, Harper's Bazaar UK reports in its April cover story.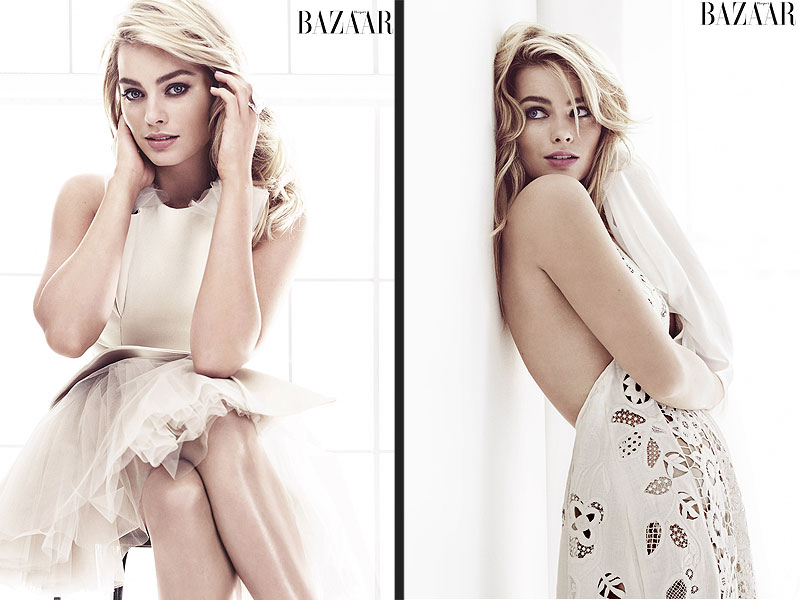 "In my head I was like, 'You have literally 30 seconds left in this room and if you don't do something impressive nothing will ever come of it. It's a once-in-a-lifetime chance, just take it,' " Robbie shared of her split-second decision to go for it, which landed her the part.
The April issue of Harper's Bazaar UK is out March 5.
Source: people.com/
Margot Robbie went from Australian soap opera actress to Martin Scorsese leading lady, taking overnight stardom in laid-back stride. With a spate of movies on deck, including this month's con-artist dramedy Focus, Hollywood's girl-most-wanted (and offscreen daredevil) is no drive-by talent. As writer Aaron Gell discovers, she's on the move, full speed ahead.
With beauty and determination, the actress Margot Robbie has seduced the best of them—Scorsese, DiCaprio, and, in this special project for W, even the artist Bill Viola.
"I've been practicing in my bathtub," Margot Robbie said as she arrived at the Long Beach, California, studio of the artist Bill Viola. Viola, who was the subject of a major retrospective this past summer at the Grand Palais in Paris, is known for his thematically epic videos—he is concerned with nothing less than life and death—and, heightening the biblical overtones, he often uses water and fire in his work. On a cool, early-fall day, Robbie, an actress on the brink of major stardom, would serve as his muse: She would slowly be submerged in water. "I am so excited," Robbie continued. "I've been holding my breath to see how long I can go without turning blue."
Read more: HERE
Margot Robbie is undeniably beautiful—but she's so much more than that.
"In my big group of girlfriends at home, I am definitely not the best-looking," the 24-year-old Australian actress says in the August 2014 issue of Vanity Fair. "I did not grow up feeling like I was particularly attractive. You should have seen me at 14, with braces and glasses, gangly and doing ballet! If I looked good in Wolf of Wall Street I cannot take full credit; it was because of hair extensions and makeup."
Martin Scorsese's casting director, Ellen Lewis, brought Robbie to the director's attention for The Wolf of Wall Street. She sums up the actress' appeal such: "As beautiful as she is, that's how talented she is."
Robbie comes from a farming family, and she didn't break into acting until her late teens. Luckily, she has a natural presence onscreen, according to those who've worked with her. Given that her home country has produced stars like Nicole Kidman and Russell Crowe, could she be the next big thing?
Source: au.eonline.com & Vanityfair.com
She's made quite a name for herself thanks to her role in the critically-acclaimed flick "The Wolf of Wall Street," and now Margot Robbie opens up about her experience on the set in March 2014 issue of ELLE Australia magazine.
During her interview, the 23-year-old actress opened up about her scary audition with Leonardo DiCaprio and chatted about her family seeing the Oscar-nominated film.
Highlights from Miss Robbie's interview are as follows. For more, be sure to pay a visit to ELLE Australia!
On her audition and Leo's improving:
"He got momentum like you wouldn't believe. He's off and running, and I'm sitting there like a stunned mullet, thinking, 'You've got 30 seconds left in this room to do something impressive.' I think every swear word in my head just started screaming at him. When I walked over like I was about to kiss and I go… slap reality washed over me. 'Oh my God, you just assaulted Leonardo DiCaprio. They're going to arrest you now.'"
On her stance on nudity scenes:
"I lied for a long time about the nudity. First, I said there was no nudity. Then I said there was nudity, but it wasn't me, that it was a body double with my head CGI's on, saying, 'It's crazy what they can do with computers!' Then I had to admit it was me."
On her family's reaction to the film:
"The grandparents flat out can't see the film. The rest of the family can watch at their own risk, but if we can't have a relationship after that, it's not my fault. If they can make it to the films final act, they'll see a more shocking side to their little girl in a climatic fight scene between Jordan and Naomi."
On her acting career:
"I say this about everything: When I was on 'Neighbors,' I said, 'These are the best years of my life!' When I was filming 'The Wolf of Wall Street,' I said, 'These are the best months of my life!' I always think I'm having the best time ever, and thatI'll never had so much again."
Source: emag.co.uk
Elle Magazine is new to Australia, on the shelves since November last year it already has a strong following with its edgy photography, scrapbook style pages and fun interviews with the fashion and beauty industries leading ladies (and men). On Monday (24th Feb) march edition will be on sale showcasing Margot, don't miss her in Elle talking fashion and fame!
Source: margotrobbie.com.au

Thought id post a video I just watched, a short interview from behind the set of the shoot for the latest Vanity Fair: Hollywood Issue. Enjoy, M.x